Day 5: Ollantaytambo ruins and train travel to Aguas Calientes

(Thursday, June 28)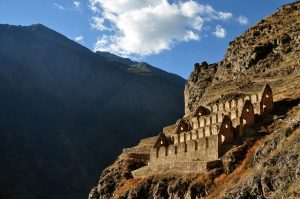 Visit the expansive ruins at Ollayntaytambo.
Take the 2-hour comfortable and scenic train ride to Aguas Calientes.
Free time in Aguas Calientes.
Hosted dinner at the lively Indio Feliz restaurant.
Overnight at Intawasi hostel in Aguas Calientes.

Ollantaytambo and Aguas Calientes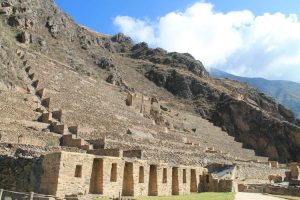 Ollantaytambo, with its gridded, cobblestoned streets are the product of Inca city planning, dating back to the 1200s. Babbling waterways, branching from the nearby rivers, feed the still-flowing irrigation system that the Incas designed, their handiwork admired to this day.
Inca Manco used Ollantaytambo as a retreat from the attacks of the Spanish. The fortress, originally built for religious purposes, was the site of a major battle, one of the only successful ones against the conquistadors.
Inka Rail offers a comfortable and scenic 2-hour ride to Aguas Calientes – the town below Machu Picchu.  Snacks are served on the train or you can bring your own refreshments.
Aguas Calientes is a small-town catering to the tourists who come to see Machu Picchu.  Full of restaurants and a bustling market for gift buying.
Links:
Ollantaytambo
theonlyperuguide.com/peru-guide/the-sacred-valley/highlights/ollantaytambo-ruins/
https://en.wikipedia.org/wiki/Ollantaytambo
Aguas Calientes
http://www.andeantravelweb.com/peru/destinations/machupicchu/aguascalientes.html
http://www.intiwasispiritualcenter.com/en/centro-espiritual
Gallery: