Connection to Animals and Sacred Service.
We believe that all life is sacred. Our animal brothers and sisters are a vital part of our world and deserve the love and respect for the beautiful and vital part they play in our lives.
When we connect directly with animals we feel a connection to something bigger than ourselves – to the "oneness" that permeates throughout all of divine creation.
Imagine majestic pumas cruelly drugged and chained in a nightclub in Lima. Or a beautiful young monkey abused at the hands of a brutal owner. Or a gorgeous hawk who was cruelly shot …. for fun.
We want to help.
We will have the privilege of supporting a wonderful animal sanctuary while we are in Peru and spending a few hours in sacred volunteer service to the family and beautiful animal residents there.
The battle for the rights of animals is not only about animals. It is about us. Once we desanctify animals – we desanctify all life.  Practicing nonviolence to other sentient beings also allows us to walk in nonviolence to the earth and nonviolence to ourselves.
The Ccochahuasi Animal Sanctuary is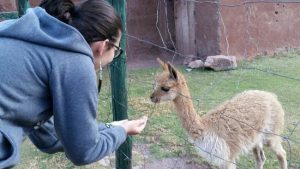 run by a dedicated family with large hearts who provide special care for these indigenous Peruvian animals.  The sanctuary is a privately-owned, family-run organization in the Sacred Valley of Peru that rescues exotic animals that have been injured or have been used for cruel entertainment purposes.  Dante, one of the family members is a biologist and knows how to properly care for these wonderful animals.
Animal medicine is a key part of the Inca culture and the ancients that came before them.  They believe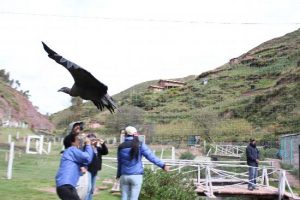 that the Puma represents the earth plane, the Snake the underworld and the Condor (and Hummingbird) the connection to spirit.
We will have the opportunity to spend time with these beautiful creatures (perhaps even get to bottle feed some Alpaca babies!) and have the thrill of having a condor (with a ten-foot wingspan) fly directly over our heads.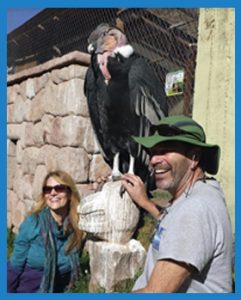 Michael, Dona and Rick have had the pleasure and the honor of volunteering here in the past and have vowed to support this great family as they help these wonderful creatures.  We will be collecting donations before the trip and we are VERY excited for this wonderful group to be able to present it to them!
Read more about them below and check out their website:  http://www.santuariocochahuasi.com/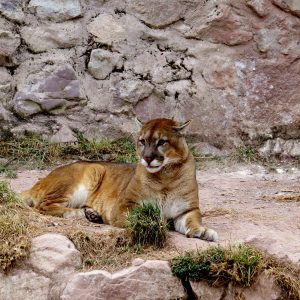 We, at CCOCHAHUASI ANIMAL SANCTUARY (CAS) , are a family run private organization, dedicated to rescuing and looking after animals which have suffered mistreatment of any kind from former owners or evil poachers or illegal hunters whom commercialize protected species. These rescued animals are put under the care of C.A.S by The forest Rangers, a dependency of The National Police or by the National Government.
Since CAS was stablished in 2007 we have been sheltering wild species, many of which are endangered. One of the species at risk of extinction is The Andean Condor, it deserves special consideration, because its population has been seriously decimated, and efforts to encourage its reproduction in captivity and later releasing the young Condors. It's our focus to illustrate our visitors on the factors that are causing this species to nearly disappear as a consequence of the action of man. The feathers are of great value for some craftsmen who later sell them as souvenirs for tourists, this activity stimulates the illegal hunting for this magnificent birds.
PLEASE HELP US RAISE MONEY FOR THESE WONDERFUL ANIMALS HERE:
(Go Fund Me page coming in April)