Day 2: Tour ancient sites of Cusco
(Monday, June 25)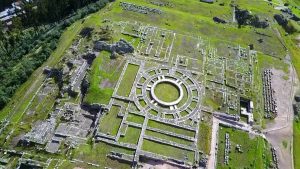 Group Tour to Saqsaywaman, Tambomachay and Qorikancha.
Free time to explore Plaza de Armas and San Blas.
Despacho Ceremony led by the Q'ero Paco – Luis.
Dinner on your own at one of the fabulous restaurants in Cusco.  We will likely head to our favorite – Green Point – and we can go as a group if you choose.
Overnight at Casa de la Gringa.

Sacred Sites and Despacho Ceremony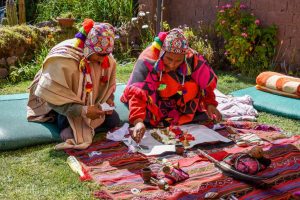 Saqsaywaman – 3000 hectars UNESCO world heritage archaeological complex.  This monumental complex is considered the first of the new seven wonders of the world. The Incas called it the "House of the Sun". The construction, which is made up of three platforms one on top of the other, was one of the most important religious complexes of its time.
Tambomachay Water Temple – had a religious function honoring water as a vital part of agriculture and regeneration of the earth.
Qorikancha – This was the most important temple in the Inca Empire.  It was  the most sacred shrine of the Inca, dedicated to the worship of the sun.
Plaza del Armas, a lively urban gathering place offering colonial arcades, a cathedral & central fountain.  It is the heart-beat of central Cusco with shops, restaurants, historic cathedral and La Compania, is a Jesuit church built in the 16th century.
Despacho Ceremony – A despacho is a prayer bundle used for hundreds of years by the high shamans of the Q'ero lineage. Used as an expression of gratitude, to heal physical and emotional ailments, to restore balance or make a specific request of the spirit world. The despacho holds symbolic elements and the prayers of the participants. And becomes a living prayer that brings energy shifts and healing.
Q'ero Paco (Shaman) –  Are said to be direct descendants of the Inca people and are indigenous bringers of light, balance and reverence for Pachamama (Mother Earth).  A people whose existence is to promote healing and well being to all.
Links
http://unchartedruins.blogspot.com/2014/09/the-vitrified-ruins-of-ancient-peru.html
Sacsayhuman
http://www.ancient-wisdom.com/perusacsahuaman.htm
Qorikancha
https://sacredsites.com/americas/peru/cuzco_coricancha.html
https://www.khanacademy.org/humanities/ap-art-history/indigenous-americas/a/city-of-cusco
http://thehiddenrecords.com/inca-pleiades-inti-punchaco-sun-disc-cuzco-Qorikancha-koricancha-Coricancha.php
Tambomachay
https://www.anywhere.com/peru/attractions/tambomachay-archaeological-site
Despacho Ceremony
https://thefourwinds.com/blog/shamanism/what-is-a-despacho/
http://www.heartstonehealing.com/despacho-ceremony.html
Q'ero People
internationalspiritualexperience.com/about-inca-shamanism/qero-inca-shamanism
Gallery