Day 8:  Market and Cusco
(Sunday, June 28)
Group breakfast then free time to explore the colorful market or stroll around the town.
Have a massage, go shopping or visit the thermal baths.
Afternoon train to Ollantaytambo – then shuttle back to Cusco.
Group dinner at Mountain House.
Overnight at Mountain House.

Explore town and Market at Aguas Calientes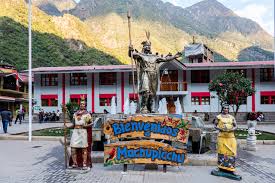 Enjoy some quiet time as you stroll the streets of Aguas Calientes.  Visit the town square (for that epic selfie with the Machu Picchu sign), enjoy the little market full of souvenir shops and local handicrafts.
There are also many spas offering affordable massages if you really want to treat yourself to some pampering.
Or just take a stroll along the beautiful river enjoying the gorgeous scenery of the surrounding mountains.
Links:
Aguas Calientes
http://www.andeantravelweb.com/peru/destinations/machupicchu/aguascalientes.html
http://www.intiwasispiritualcenter.com/en/centro-espiritual
Gallery: