Day 6:  Ollantaytambo ruins and train travel to Aguas Calientes

(Friday, June 26)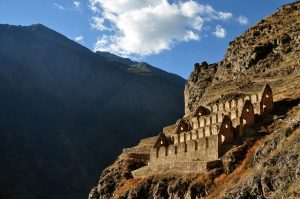 Today we visit the expansive and extraordinary ruins at Ollayntaytambo.
Following our breathtaking visit we will take the 2-hour comfortable and scenic train ride to Aguas Calientes.
Free time in Aguas Calientes.
Hosted dinner at the lively (and delicious!) Indio Feliz restaurant.
Overnight at Intawasi hostal in Aguas Calientes.

Ollantaytambo and Aguas Calientes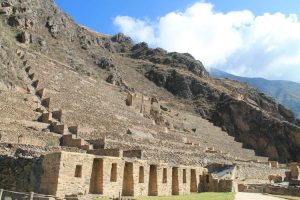 Ollantaytambo, with its gridded, cobblestone streets is the product of Inca city planning dating back to the 1200s.  Babbling waterways, branching from the nearby rivers, feed the still-flowing irrigation system that the Incas designed, their handiwork admired to this day.
Ollantaytambo is, from a historical and symbolic point of view, equally as significant as Yllampu (the original Inca name for Machu Picchu), but it needs a better publicist!  It is an immense complex, covering 600 hectares and takes up much of a valley and sits next to and includes the Inca era village that shares its name.  It's archeo-astronomy and spiritual significance is often overlooked and we will explore it in interesting ways.
We will cleanse ourselves from the ancient water purification temple, align our frequencies with sound healing, visit breathtaking megalithic monuments at the Temple of the Sun and participate in a group meditation at the Temple of the Condor.
After visiting the temple complex we board our train to Machu Picchu.  Inka Rail offers a comfortable and scenic 2-hour ride to Aguas Calientes – the town below Machu Picchu.  Snacks are served on the train or you can bring your own refreshments.
Aguas Calientes is a small-town catering to the tourists who come to see Machu Picchu.  Full of restaurants and a bustling market for gift buying.
We will have dinner together with a three course meal at Indio Felix – a fun restaurant with superb food.  Then we will retire early in preparation for our visit to Machu Picchu in the morning.
Links:
Ollantaytambo
theonlyperuguide.com/peru-guide/the-sacred-valley/highlights/ollantaytambo-ruins/
https://en.wikipedia.org/wiki/Ollantaytambo
Aguas Calientes
http://www.andeantravelweb.com/peru/destinations/machupicchu/aguascalientes.html
http://www.intiwasispiritualcenter.com/en/centro-espiritual
Gallery: