Day 4: Travel to the Sacred Valley

(Tuesday, June 25)
Group travel to the Sacred Valley of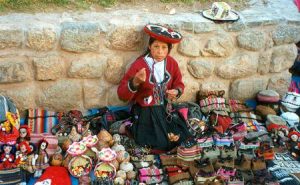 Peru and the town of Ollantaytambo.
In route visit Moray, the Inca Salt Mines and the mystical portal of Pachar.
Evening meditation and group dinner.
Overnight Ollantaytambo at Munay Punku Hostal.

The Sacred Valley in the Peruvian Andes, runs from the old imperial capital of Cusco to the enigmatic citadel of Machu Picchu.  It is a place of eerie natural beauty, ancient Inca cities and mystical places.
Encompassing what was the fertile homeland of the Inca Empire (1438 to 1533), today the transcendent region – also known as the Urubamba Valley – is a quiet expanse of country that is steeped in Andean history and culture.
Moray is another ingenious Inca agricultural construction, though it is no longer in use.  While it resembles a giant amphitheatre with concentric terraces leading to the ground, it was created for agricultural experimentation.  Each level corresponds to a different microclimate, which the Incas possibly used to test crops.
Maras salt pans (Inka Salt Mines) are strategically dug into the mountainside, thousands of shallow pools filled with salt water evaporate and leave behind the crystallized salt, a process that has been practiced for more than 500 years.
Pachar – Inca's belief of Pachar was that it was a portal to another dimensional doorway leading into three dimensions.  We will hike up to this mystical place and have the opportunity to sit in the doorways of the portal.  Group meditation.
Links:
Moray
https://www.rediscovermachupicchu.com/moray.htm
Maras Inca Salt Mines
annees-de-pelerinage.com/maras-salt-mines-ponds-peru/
Pachar –
naupa-iglesia-the-inca-gateway-into-another-time/
Munay Punku Hostel –
https://www.booking.com/hotel/pe/munay-punku-hostal.en-gb.html?aid=356980;label=gog235jc-hotel-XX-pe-munayNpunkuNhostal-unspec-us_ca-com-L%3Aen-O%3AwindowsS10-B%3Afirefox-N%3AXX-S%3Abo-U%3AXX-H%3As;sid=ad0f47dcb0729e548e4723af075a0c26;dist=0&sb_price_type=total&type=total&
Gallery: